VMSG Newsletter #49

No. 49: May 2021
"The greatness of a community is most accurately measured by the compassionate actions of its members." – Coretta Scott King
Editorial
Welcome all to the start of summer! May has been spectacularly soggy, and sometimes it seems the clouds won't shift. To add some sunshine, this newsletter's theme is "solidarity". Together we sift through various subjects that have affected our community over the last few months. We start with a statement in response to the Sewell Report, and share recent evidence on the lack of representation in the geosciences in UK. In addition, we consider the effects of recent cuts to overseas development assistance (ODA) funding. There is more solace in literature: you are cordially invited to submit to MinSoc and a special issue of Remote Sensing, or to share thoughts in a new ECR reading group. We have a taste of travel through a field report from our 2019 and 2021 winners of the Henry Emeleus award, and the promise of future discovery with a final call for VMSG busaries and awards. Finally, we invite our PhD students and ECRs to add their details to a directory so that we can find out more about your research and plan future events. Relax, kick off your shoes, and enjoy what promises to be a gorgeous June. – Ailsa Naismith
VMSG and the Sewell Report
The Commission on Race and Ethnic Disparities ("The Sewell Report") was a government-commissioned report published in March 2021 that aimed to investigate institutional racism in the UK. (The original report can be found here.) Its publication caused major controversy: many felt it did not acknowledge the systemic and structural racism that has and continues to pervade many UK institutions. In response to the Report, the VMSG would like to make the following statements:
'BAME' (Black, Asian and Minority Ethnic): VMSG collects representation data (e.g. on conference attendees). We will continue collecting this data while maintaining confidentiality. Our commitment to confidentiality includes sensitivity to minority groups where individuals might be more easily identified.
Language of racism: VMSG pledges to continue addressing structural and systemic racism in the ways we discussed in 2020 (watch via YouTube).
Response to racism: VMSG affirms that following complaints of racism, our response will be firm regardless of the intentions of the perpetrator. We will continue to uphold anti-racist principles true to our institutional spirit.
Conversations about racism: VMSG will keep holding conversations that are uncomfortable – e.g. legacy of colonialism, white privilege.
Engagement and outreach: VMSG will continue to focus outreach efforts on all under-represented groups, regardless of racial or socioeconomic background.
Curriculum: In addition, VMSG will continue to promote both work that owns the impact of colonialism within the geosciences and work that actively helps to decolonise the geosciences.
Education: VMSG acknowledges inequalities in the education system that perpetuate racial inequalities in the geosciences [see Natasha Dowey's article below]. Acknowledging that some groups have a harder time in the education system allows space for conversations on how to change this.
Further education: The VMSG committee is actively seeking ways to boost Black and other ethnic minority student numbers in the geosciences.
Mental health: VMSG understands this is a huge problem and are considering ways in which we can support mental health of Black and ethnic minority researchers.
Fieldwork: Reflective of how to be more equitable. Initiatives on how to do fieldwork risk assessments that considering racism, homophobia, ableism etc. are an essential part of this.
The VMSG continues to work to promote antiracism, but acknowledges that we have still not done enough and strive to do more. As ever, hear about updates via the Twittersphere: @vmsg_uk. – VMSG Committee

Lack of Diversity in UK Geosciences
Three members of our community (Dr. Natasha Dowey, Professor Jenni Barclay, and Dr. Rebecca Williams) have co-authored an article on the particular lack of representation of BAME students in UK geoscience. The article, published in Nature Geoscience, identifies geology, physical geography, and environmental science as poorly representing Black, Asian, and minority students in both undergraduate and postgraduate research. After analysing and reviewing the data, the authors call for action and make concrete recommendations that if implemented will materially improve diversity and equity in these subjects. We hope that this article will invigorate efforts to diversify UK geosciences and embolden other science disciplines to do similar work.
The lead author, Dr. Natasha Dowey, says:
"My hope is that this article increases recognition of the deep-rooted problems that prevent our subject from being an equitable environment for all. It may be short, but it reflects conversations and collaboration between students and staff, across the geoscience community. Moving forward it is crucial that we continue to work across traditional subject and sector boundaries, and along the pipeline, to implement meaningful change."
Racial diversity among UK undergraduates and postgraduates is particularly low in geology, environmental science, and physical geography.
This message is eloquently reflected in the article:
"We must address personal and structural biases, and go beyond this to be actively anti-racist. The less diverse a field is, the more prevalent implicit biases become. We must act now, and have those difficult conversations, to create a modern geoscience research culture that reflects the diverse nature of the planet we study."
Read the full article here. – Natasha Dowey & Ailsa Naismith

Cuts to Overseas Development Assistance (ODA) funding
In March 2021, UKRI suddenly announced a £120 million shortfall in its overseas development assistance (ODA) funding for 2021-22. The impact of this out-of-the-blue decision has been devastating to many of our colleagues and friends both in the UK and overseas, who have spent much effort and many years on building partnerships that are now threatened. One of our community reflects on the fumble below:
"I fell in love with Central America as many people do, on my first trip there as a PhD student in late 1998. Early in the trip I got up at dawn to explore the market at Masaya in Nicaragua. It was an extraordinary experience. Meat hung from hooks, clothes were piled high on tables and vendors were chatting noisily to anyone who would listen. I often describe this part of the world to my students as an assault on the senses; chaotic, loud, and irresistible. As I emerged into bright sunshine at about 8 o'clock I bought a coffee and a slice of watermelon, sat on a nearby bench and watched the world unfold. The coffee was dark and sweet, and the watermelon was cold and fresh. It is amongst the happiest I have ever felt, high on life on the wings of youth.
Over twenty years later and I am still in love. My mantra may be more carpe somnum than carpe diem, but I still get a fix from adventure. What I now have, thanks to longevity, is strong bonds. I have worked with some of my friends in Guatemala for twenty years. They rely on me, and I feel like I am helping. I am equally conscious that I am utterly ineffective without them – it is a relationship where we are all comfortable in each other's company and, critically, pulling in the same direction. I never laugh so hard, or feel so alive, than when in the field. Those shared memories build trust.
I study active volcanism, and I am blessed to do something I love. I work on both quite theoretical and more applied aspects of volcanoes. The applied bit means working at the interface of volcanic hazards and people. The communities around the volcanoes of Guatemala are vulnerable, poor and extraordinarily resilient and my Guatemalan colleagues work tirelessly, round the clock, to try to keep them safe. For years now, we've dreamt of working on a big project. Something that might really make a difference rather than scratching at the edges. Then, an opportunity arose, and group of friends with the shared aim of making a difference worked together for months, meeting regularly, honing ideas and dreaming of outcomes. To our joy, after a nervous wait, we heard the project had been funded. We started to plan, despite covid, and then, out of nowhere, learned the plug might be pulled.
I have run the full gamut of emotions after hearing the news that, as a result of cutting the overseas aid budget, the government has generated a huge shortfall in funding this year. Even projects like ours, that are already running, were to be either cancelled or 'reprofiled' (an Orwellian euphemism if ever there was one). First came shock at the stupid and thoughtless decision. Then incredulation. The cuts, in the context of the overall budget, are tiny. They felt directed, personal, and spiteful. Then, finally sadness and profound sorrow, of things maybe lost. All the ideas we had, the daydreams of sitting and talking to people, learning, sympathising, empathising, and listening, above all listening, to their stories.
Meeting, albeit virtually, with the team from Guatemala was excruciating. Our embarrassment, our shame at breaking their trust, pours out of us like a confession. We are dumbstruck and we have nothing to reassure them with. Of course, they are understanding. They are used to governments breaking their promises, changing things without warning or transparency, but they are surprised we're in the same boat. Last month the business secretary said 'I don't think our international standing or partnerships have been impaired'. I can state, on behalf of my friends, that is categorically not the case." – Matt Watson
See the original UKRI announcement here.
Shout-Outs on Twitter (Solidarity)
Through a Twitter thread, several members of the VMSG community expressed comments of gratitude for colleagues, friends, and collaborators who had shown solidarity to them throughout the last year. Here they are below: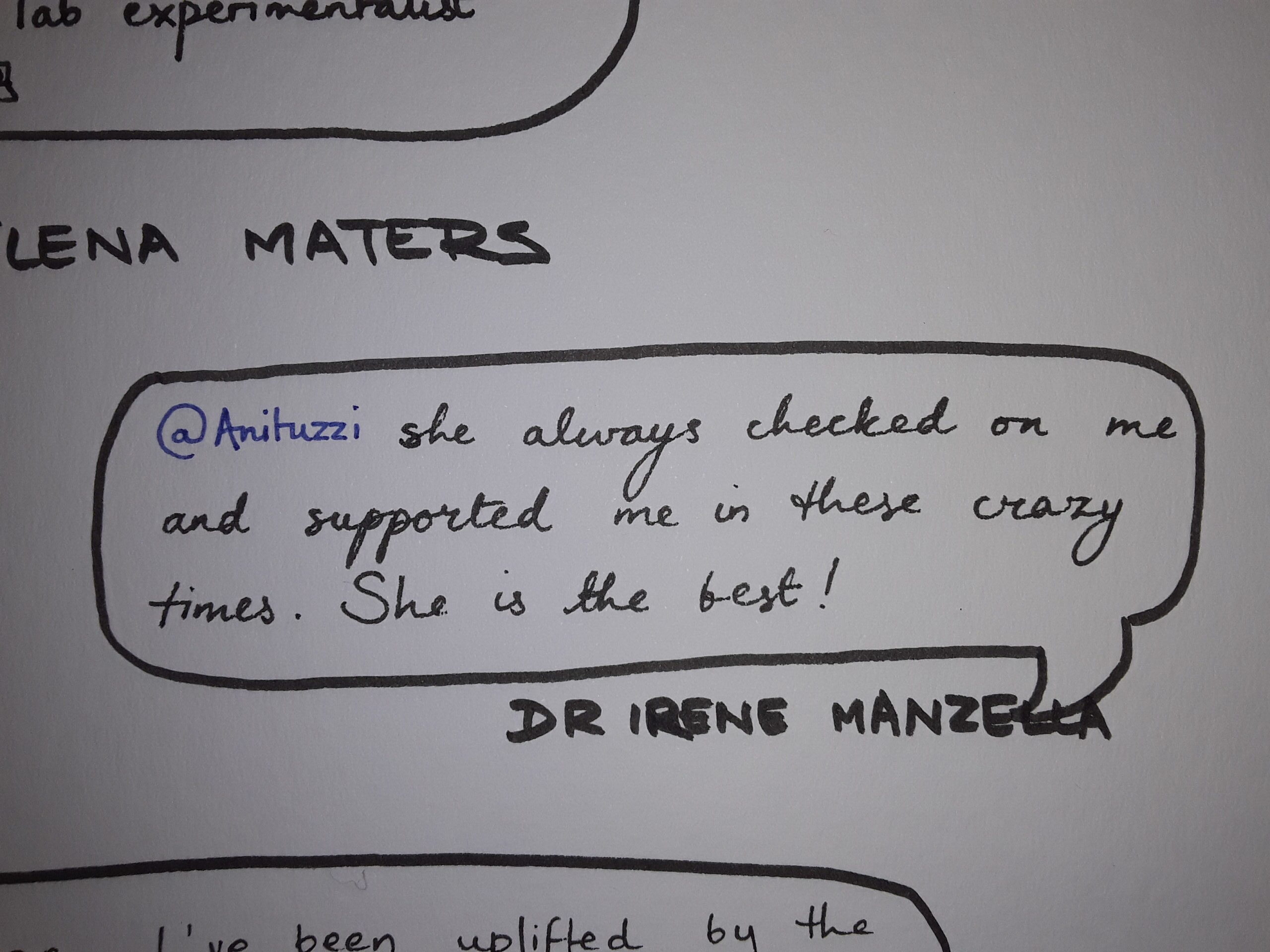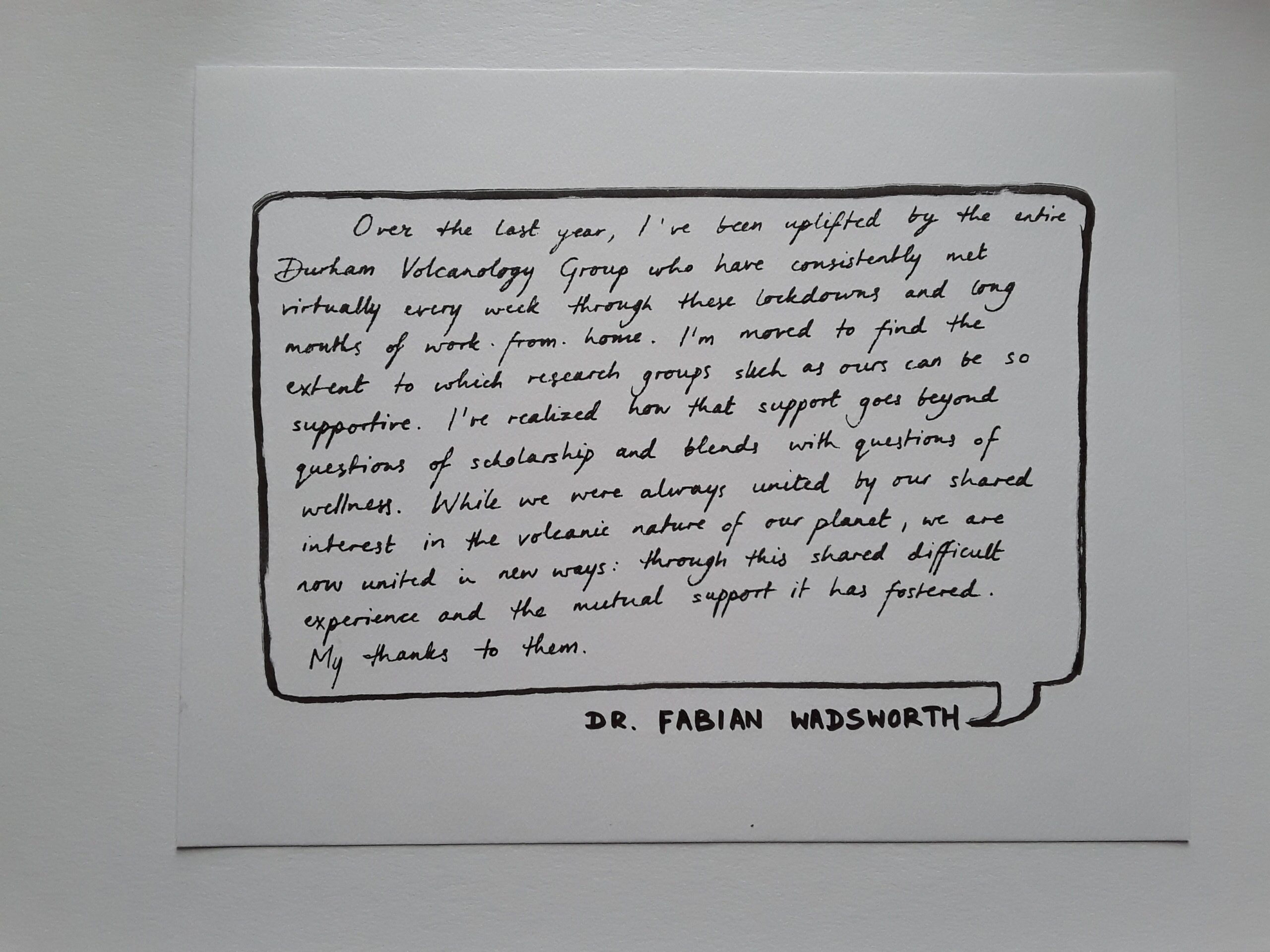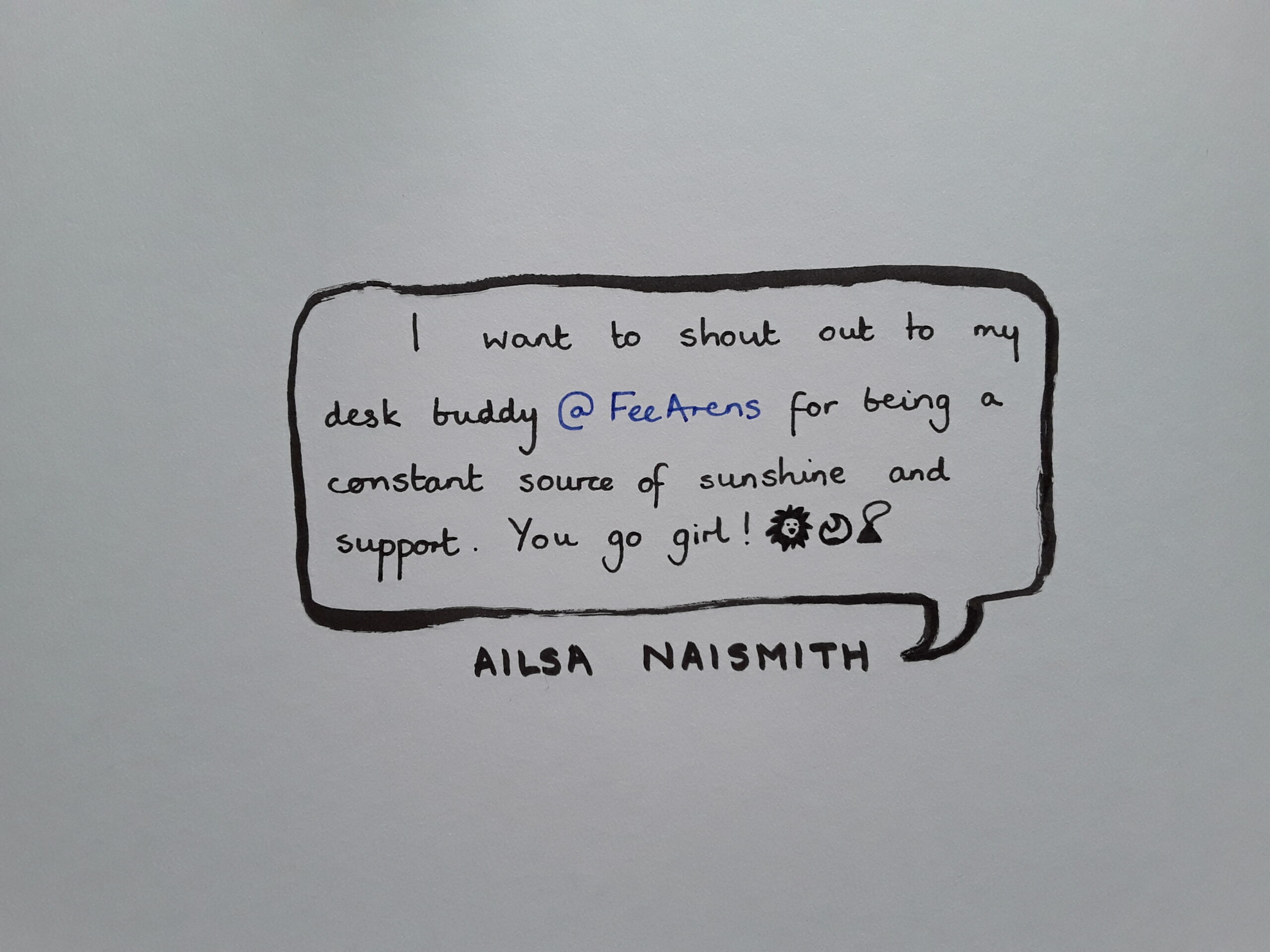 Literary Corner
We hear below from two editors that invite you to submit your work to their publications. Best wishes to our friends, and solidarity to colleagues at INGV as they monitor the ongoing activity at Mt. Etna.
Mineralogical Society
https://www.cambridge.org/core/journals/mineralogical-magazine
The editors of Mineralogical Magazine are pleased to consider papers from members of the VMSG. MinMag is one of two journals published by the Mineralogical Society of Great Britain and Ireland in conjunction with Cambridge University Press. The VMSG is a Special Interest Group of the Mineralogical Society. The Society views solidarity with its SIGs as being of prime importance and all possible steps are taken to facilitate scientific activity by them.
As we move towards fully Open Access status, we encourage you use the Cambridge checking tool (https://www.cambridge.org/core/services/open-access-policies/waivers-discounts) to see if you may be entitled to a 'free' OA paper under the terms of a 'Read and Publish' deal between your institute and 'the Press'. 88 universities and other institutions in the UK are covered.
The journal has a strong, diverse and inclusive editorial board ready to deal with your minpet papers. These include editors from 16 countries, including: Roger Mitchell (Principal Editor, petrology/geochemistry), Ian Coulson, Katherina Pfaff, Leo Melluso, Aniket Chakrabarty, Jason Harvey, David Good, Eimear Deady, Ed Grew, and Mike Rumsey.
The average 'time with reviewer' is 17 days; manuscripts are published online within a week of acceptance; and the final published version appears online, on average, within six weeks of acceptance.
Check out our new collections, including all the Hallimond lectures available here. – Kevin Murphy

Remote Sensing: Special Issue
Dear colleagues and friends!
We would like to invite you to submit papers to the Special Issue, "Remote Observation of Volcanic Emissions and Their Impacts on the Atmosphere, Biosphere and Environment" for the journal Remote Sensing (impact factor 4.509). This Special Issue aims at presenting state-of-the-art and recent advancements in volcano remote sensing, as well as multidisciplinary volcano studies deriving from the exploitation of these remote sensing methodologies, with a special focus on volcanic emissions and dispersing/evolving plumes, and the impacts of volcanic pollutants on the atmosphere, the biosphere, and the environment. Please find more information at the following website:
https://www.mdpi.com/journal/remotesensing/special_issues/Volcanic_Emissions_Impacts_Atmosphere_Biosphere_Environment#
The deadline for manuscript submissions is 31 March 2022. – Giuseppe Salerno, Pasquale Sellitto, Letizia Spampinato, Salvatore Giammanco, Chiara Giorio
ECR Volcanology Reading-Rendezvous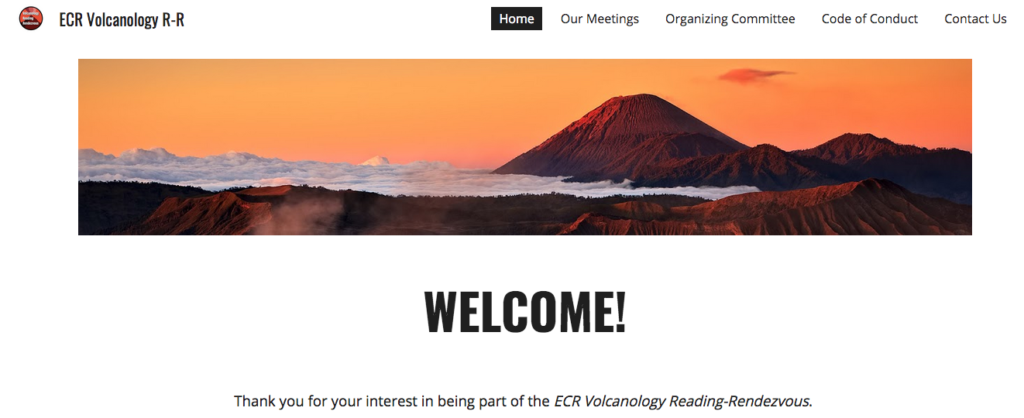 The ECR Volcanology Reading-Rendezvous is a newly-formed paper discussion group, created by six ECRs from a variety of research backgrounds and career stages. Our aim is to provide an accessible, inclusive, and diverse platform for discussion of novel topics in volcanology, which is open to absolutely anyone who identifies as an ECR working in the fields of physical volcanology, igneous geochemistry, petrology, volcano geophysics, and related subjects. From the 10th June onwards, we will be organizing a series of once-monthly virtual discussions, to be held on the second Thursday of the month. Discussions will be hosted on Zoom, during which attendees will focus on exploration and discussion of a new and/or keynote paper in volcanology. Paper choices are informed by the broad theme for that month, which will be one of:
(1) Pre-eruption triggers, mechanisms and warnings
(2) Intra-eruption processes
(3) Post-eruption impacts & responses
To ensure all attendees can plan to attend and engage with meetings in advance, we will announce the next month's paper and discussion date at the end of each meeting.
Interested in joining us? To sign up to attend our discussions, sign up to our mailing list here. People can get in touch with the R-R via email (volcano.ecr@gmail.com) or Twitter (@ECRVolcan_RR). The committee members are all on Twitter: Alice (@alicepaine03), Isabel (@izzifen), Anna (@anna_brookfield), Nick (@volcannick),  Hannah (@HannahMBuckland), and Thomas (@ThomasJAubry).
We hope to see you there! – Alice Paine
Student Bursary Report
Craig Magee – How does magma flow through sill-complexes? (2019)
In 2019, which seems an eternity ago, I was lucky enough to receive the Henry Emeleus Award from the VMSG to conduct fieldwork on the Isle of Mull, Scotland. Guided by the excellent work of Holness & Humphreys (2003), the aim of the work was to map and sample sills within the Loch Scridain Sill-complex, which show local thickening potentially related to flow localisation, and establish how magma dynamics varied across these intrusions. Sill-complexes are interconnected networks of relatively thin sills that cover vast areas. A perplexing question is how does magma moves through multiple sills to expand sill-complexes without freezing? By identifying and mapping such flow pathways in Mull, I wanted to test whether flow localisation could insulate magma, allowing it to flow further and incrementally build sill-complexes. My selected method to achieve this aim was to use anisotropy of magnetic susceptibility (AMS), which provides quick and cheap measures of rock fabrics, to map crystal alignments created during magma flow (e.g., like throwing sticks in a stream).
With a field campaign planned, Dr. John MacDonald (University of Glasgow) offered to assist me in the field and Dr. William McCarthy (University of St Andrews) provided free use of the M3Ore Laboratory for sample analysis. A critical turning point in my planning was a fortuitous conversation with Dr. Janine Kavanagh at the University of Liverpool, who had worked on the very sills I planned to study with then-PhD researcher Simon Martin. Following an inspiring chat, Simon joined me in the field and shared his knowledge of the area and expertise in sheet emplacement. It was fantastic to see the project evolve from something I was doing, to a collaboration of minds and friends. Together we made quite a team and the outputs of our work far exceeded my original expectations.
Before the pandemic struck, we managed to process a number of the collected samples and have put together a report (with data) freely available through EarthArXiv (here). The remaining samples are in the pipeline for analysis and, once processed, will be added to the report. It is still early days in the work, but results are promising and there are tantalising signs that the AMS fabrics can be used to identify areas of flow localisation. Importantly, if confirmed, these results would mean we could use fabric analyses to locate flow localisation in sheet intrusions even if there is no other obvious evidence for such processes. Such findings would pave the way for an extensive campaign to map fabrics across entire sill-complexes to find how magma moves through them without freezing.
In the spirit of solidarity, I am entirely grateful to everyone who offered their help with this little project and to the VMSG for funding the work. I had the privilege of sharing fieldwork with Henry Emeleus on a VMSG workshop to Ardnamurchan in 2008, and the award in is honour is a fantastic way to continue his legacy. If you are interested in this work, please do get in touch (c.magee@leeds.ac.uk). – Craig Magee
John and Simon getting to grips with the contact zone of a dolerite sill above basalt lava. Note the local thickening of the sill, which may be indicative of flow localisation.
Update: We've actually now managed to prep and run the samples – now it's a matter of finding time to piece everything together!
Awards And Bursaries
VMSG Awards and Student Bursaries
Final call for nominations for the 2021 VMSG awards! and student bursaries. Submission deadline is Tuesday 1st June 2021. The following are available:
Thermo-Fisher VMSG Award
Willy Aspinall Award
Eligibility requirements and application forms can be found by clicking through to the VMSG website: Thermo Fisher Award; Willy Aspinall Award. The VMSG particularly encourage nomination from under-represented groups. Please consider asking colleagues to nominate you! Applications by email only to the VMSG Awards Officer, Nick Gardiner (nick-gardiner@st-andrews.ac.uk).
This is also the final call for Student Bursaries. Up to £500 to support fieldwork or attendance of a conference (virtual or in-person). Eligibility requirements and application form available here: Student Bursaries. Must have presented at a VMSG conference before. As before, applications by email only to the VMSG Awards Officer, Nick Gardiner.
Steven Walker – Winner of Henry Emeleus Fieldwork Grant (2021)
Congratulations to Steven Walker (Edge Hill University), who was awarded £1000 from the above grant in March 2021. Steven will use the funds towards fieldwork on Mull focussing on volcanic stratigraphy and magma dynamics. We look forward to hearing about his results at a future VMSG meeting!
Congratulations to Steven Walker!

VMSG PhD and ECR Directory
VMSG are pround to unveil a new directory for PhD students and early career researchers! This document is ideal for sharing details and seeking other students and ECRs to connect. Find the document here.
Please note: only PhDs and ECRs are able to sign up with their details. However, we encourage all members to use this service to find collaborators and contacts.
Happy networking! – Claire Harnett & Emma Watts
Other Goodies
Conference dates
Upcoming dates for conferences include:
Goldschmidt (4 – 9 July 2021, virtual)
Cities on Volcanoes (June 2022, Heraklion, Greece)
IAVCEI (30 Jan – 2 Feb 2023, Rotorua, New Zealand)
Webinars
The International Volcanology Seminar (IVS) series, started jointly by Dr. Josef Dufek (University of Oregon) and Dr. Ben Andrews (Smithsonian Institute), is still going strong. Seminars are given regularly and often feature ECRs. Join via the mailing list here.
And, in case you missed the live streaming of the IAVCEI workshop, "The 2021 Fagradalsfjall (Geldingadalir) eruption and its precursors", it has been posted on the IAVCEI website in the Members Zone (here).
Outro
Feel like you're about to explode? Let off some steam by contributing to our volcano-themed music playlist! Simply submit any music you'd like via Twitter (@vmsg_uk) or email (ELCARTER at tcd.ie), and we'll add it to a playlist on the VMSG YouTube channel. There's no time limit to submit. Guaranteed to rock your socks off!