The 60th Anniversary VMSG Meeting – Bristol, 3-5th January 2024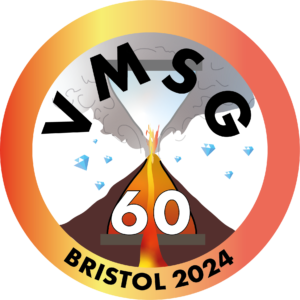 We look forward to welcoming you to Bristol for this very special anniversary meeting of the Volcanic and Magmatic Studies Group. More information will be added to this page as the event draws closer, so please check back regularly. To receive circulars and further information by email please ensure you are subscribed to the VMSG mailing list.
Conference announcement sent 31 July 2023
First Circular sent 12 September 2023
Second Circular sent 9 October 2023
Abstract deadline extension sent 19th October 2023
Registration
Registration is now open, please use the online shop available here: https://shop.bris.ac.uk/conferences-and-events/school-of-earth-sciences/vmsg/vmsg-2024-conference
We offer discounted rates for members of the Mineralogical Society of the UK and Ireland and of the Geological Society of London. Note that student membership of the MinSoc is cheaper than the difference between member and non-member registration rates.
In-person early-bird rates are:
Academic member £245
Academic non-member £265
Student/unwaged member £130
Student/unwaged non-member £150
Early bird registration rates are available on in-person registrations until 31st October, after which a £20 increase will apply. Please note that all in-person registrations will close on the 4th December in order to provide our suppliers with firm numbers.
We are providing a limited hybrid format; online registration will enable you to watch all presentations as a live stream  and participate in the Q&A. Online participants will also be able to submit posters which will be available digitally to all delegates.
Online registration rates are:
Academic member £60
Academic non-member £80
Student/unwaged member £30
Student/unwaged non-member £50
Online registration will be available until 31st December. However, the option to submit an abstract will require registration by the abstract submission deadline.
Please note that by registering for this event you agree to abide by the VMSG Code of Conduct.
Workshops & Fieldtrip
A separate registration process is available for registration on our workshop programme, running in the morning of the 3rd January before the conference starts. Details of each workshop and the field trip are available here. You can register for workshops using the online shop here and you can register for the field trip using the online shop here. You need to have registered for the conference with the same email address as that used for the workshop and field trip.
Abstract submission
Abstract deadline has been extended to the 30th October – once you have registered you will receive an email detailing how to submit your abstracts. Delegates will be notified of acceptance and poster/talk presentation decisions by the end of November.
Schedule (subject to change)
Wednesday 3/1/24
09:00-13:00 – Workshops. Limited places, which must be booked using the registration tools. Cost is additional to registration fee. See here for details.
12:00-14:00 – Registration
14:00-17:30 – VMSG Conference
17:30–19:30 – Icebreaker
Thursday 4/1/24
08:30-17:30 – VMSG Conference
18:00 – late – VMSG 60th Anniversary Conference Banquet. Included in all in-person registrations.
Friday 5/1/24
08:30-16:30 – VMSG Conference
Evening – Volcano film festival and outreach event at the Watershed
Saturday 6/1/24
Field visit to the carboniferous submarine volcanic sequence at Sand Bay – Limited places, which must be booked using the registration tools. Cost is additional to registration fee. More details here.
Venue
The workshops and conference will be held in the University of Bristol Chemistry Building, BS8 1TS.
The conference dinner will be held in the Great Hall of Wills Memorial Building, BS8 1RJ.
Accessibility
All conference venues are wheelchair accessible through the designated accessible entrances, and lifts are available for access to other levels. All buildings have an in-house estates/security office at the entrance which can assist with any issues. Detailed accessibility information for each building (including availability of blue-badge parking and detailed images of accessible routes) can be found here:
Parking and Travel
Parking within the centre of Bristol is limited and expensive. We would strongly advise attendees to use public transport to travel to Bristol, or to make use of the park and ride scheme (with usual caveats about vehicles left at the owners risk). The closest public parking to the venue is the multi storey at Trenchard Street (BS1 5AN), which can be accessed via Lodge Street from Park Row, or via Frogmore Street.
Once in the city the bus system is comprehensive and regular. Delegates may also wish to avail themselves of the e-scooter system. Please note that both buses and e-scooter systems use mobile phone apps for ticketing/access.
Accommodation
There is a wide array of accommodation available in Bristol although it can get quite expensive so we advise early booking.
We have arranged a 10% discount on best available rates at four hotels within the city when you quote the discount code "VMSG2024".
– The Berkeley Square Hotel, BS8 1HB. 0117 925 4000; berkeley.reception@cliftonhotels.com
– The Clifton Hotel, BS8 1LX. 0117 973 6882; clifton.reception@cliftonhotels.com
– The Rodney Hotel, BS8 4HY. 0117 973 5422; rodney.reception@cliftonhotels.com
– The Washington Guesthouse, BS8 1LX. 0117 973 3980; washington.reception@cliftonhotels.com
Contact
If you have any questions please contact us at vmsg-conference2024@bristol.ac.uk
Financial information
All payments for the conference will go through the University of Bristol online shop, and any surplus from the event will return to the VMSG for use in supporting our activity, including student bursaries. As an academic conference these registration fees are VAT exempt.