VMSG Newsletter #51

No. 51: November 2021
"The times, they are a-changing." – Some bloke
Editorial
Whoa. We're approaching the end of 2021 already … how did that happen?! While we ponder the fickleness of time, let us also be thankful that it's back to slipping through our fingers, rather than the slow treacle of 2020. This newsletter announces many changes. This includes within the VMSG Committee, as we welcome both our new Chair and three new committee members. We also celebrate the transitions of fellow students (of whom we're always proud) to graduates, and wonder at how rapidly things shift even on unyielding rock (any excuse to display an outcrop). Looking towards the New Year, we are excited about the return of conferences, both on our turf with vVMSG2022 and those further afield. Let's get stuck in! – Ailsa Naismith
VMSG Committee is changing!
New VMSG Chair
We are delighted to announce that the next Chair of the VMSG will be Professor Tamsin Mather (Oxford)! Tamsin says:
"I am really excited to be taking over as VMSG chair. I gave my first PhD conference talk at a VMSG meeting many years ago and it played a key role in introducing me to the UK community. Sally will be a hard act to follow but is leaving the committee in excellent shape full or ideas and energy to take things forward. I am very much looking forward to working with you all."
Tamsin starts her position in January 2022, so please join us at vVMSG2022 to welcome her and to thank our current Chair Prof. Sally Gibson for all her work steering the VMSG ship over the past four years. – VMSG Committee
New VMSG Committee Members
We're extending a warm welcome to not one, not two, but three new members of the VMSG Committee. Lara Mani will be joining us as our new Outreach and Public Engagement Rep, Eilish Brennan will be starting her role as Student Rep shadowing Em for 1 year, and Ed McGowan will be the new Web Manager. Please join us in welcoming them all and wishing them well in their new roles! – VMSG Committee
vVMSG2022
Roll up, roll up – abstract submission for vVMSG2022 is now open! vVMSG2022 is the virtual annual meeting of the Volcanic and Magmatic Studies Group, taking place on 10th – 12th January 2022. The meeting is being organised by the University of Manchester and hosted online by the Geological Society of London.
Find full details of the meeting can be found here. And find more information on our new conference buddy scheme here! A provisional schedule will be uploaded shortly.
We welcome abstract submissions on any aspect of volcanism and magmatism, from mantle heterogeneity to magma dynamics, gas emissions, hazard management, and planetary volcanism. The deadline for abstract submission is 30th November 2021. Meeting registration will close shortly before the conference begins. You can find abstract templates on the conference website. Please send completed templates to the following email address: vmsg2022@gmail.com.      
Postdocs who wish for their submission to be considered for the Zeiss Post-doctoral Keynote Award should email their application form completed with the template provided below alongside their abstract. Full details about this award can be found on the VMSG website (https://vmsg.org.uk/awards/post-doctoral-keynote-award/). – David Neave, Margaret Hartley, Brendan McCormick Kilbride (Local Organising Committee, University of Manchester)
How Times Change
BEFORE AND AFTER … the changing face of a lamprophyre bed.
The upper photograph shows a lamprophyre bed described in the Scottish Journal of Geology in 2008 (details here). The lower photo is how the outcrop appears today – inaccessible and would be ignored by budding VMSG members! – Richard Batchelor
EGU Session Announcement
EGU Session on Magma-Sediment Interaction
Dear colleagues, I would like to draw your attention to a new EGU session in the GMPV9 – Volcanic processes: GMPV9.7 Magma-sediment interaction at the subseafloor: mechanisms and role in the Earth CPL-Cycles (Carbon-, Plate-, Life-Cycles).
The goal of this session is to share updates on research related to magma-sediment interaction occurring in the first 500m of active sedimentary basins and to explore the implications and role this interaction may play in the Earth CPL-Cycles (Carbon-, Plate-, Life-Cycles). More details can be found here: https://meetingorganizer.copernicus.org/EGU22/session/41943. We welcome contributions from diverse research approaches including, but not restricted to, the following disciplines: volcanology, sedimentology, geochemistry, hydrothermal research, microbiology.
Feel free to disseminate this invitation further. We look forward to receiving your abstracts! – Tara Stephens
EGU General Assembly details
The upcoming EGU General Assembly 2022 (EGU22) will take place as usual in Vienna, Austria from 3rd – 8th April 2022. The organizing committee of EGU22 aims to provide a hybrid experience that is on-site as well as virtual. For further information, please consult the official website: https://www.egu22.eu/.
Deadlines:
Abstract submission deadline: 12 January 2022, 12:00 GMT. Find out how to submit an abstract here.
Travel support application deadline: 1 December 2021, 12:oo GMT. Find out more here.
Amber Madden-Nadeau VIVA!
Congratulations to Amber for successfully passing her viva in October 2021! Amber presented her thesis, "Silicic caldera volcanism and the 1883 eruption of Krakatau volcano, Indonesia" (supervised by Mike Cassidy, David Pyle, and Tamsin Mather) to examiners Tom Gernon (Southampton) and Conall Mac Niocaill (Oxford). Find out more about her research here. – Mike Cassidy
New initiative
We love to celebrate our PhD students, who are the heart of our community. That's why the VMSG is starting a new ongoing item in our newsletter: announcement of recent PhDs awarded!
If you have recently been awarded a PhD, please write to us with the following details – title, PhD student's name, supervisor(s)' name together with the awarding institute. We also welcome input from supervisors on behalf of their students. If you have a graphical highlight from the thesis we would also love to feature this!
This will be an ongoing initiative, with announcements going out in the quarterly newsletter. – VMSG Committee
GIS for Geoscientists workshop
The VMSG GIS for Geoscientists Workshop has been taking place throughout November 2021 via 4 webinars, with additional material also available on our YouTube channel. The course has been delivered by Nick Barber (Cambridge) and facilitated by Claire Harnett (Dublin) and Emma Watts (Southampton). More than 450 of you registered, which is a testament to the vibrant VMSG community. This workshop was organized as a direct consequence of the PhD and ECR forums at the VMSG Annual Meeting in 2021, and we were delighted to see that 76% of registrants are early career scientists! The course introduces key QGIS concepts, including an interactive tour of the software interface, hazard assessment, manipulating data, map design, geostatistics, as well as advanced uses such as integration of Python and Google Earth Engine.
You can find a YouTube playlist of videos here and additional resources, including PDF guides to each webinar (!!), on GitHub here.
A massive thanks to Nick Barber particularly for all his hard work on creating content and organizing this, and to Claire and Emma for facilitating! – VMSG Committee
Fieldwork report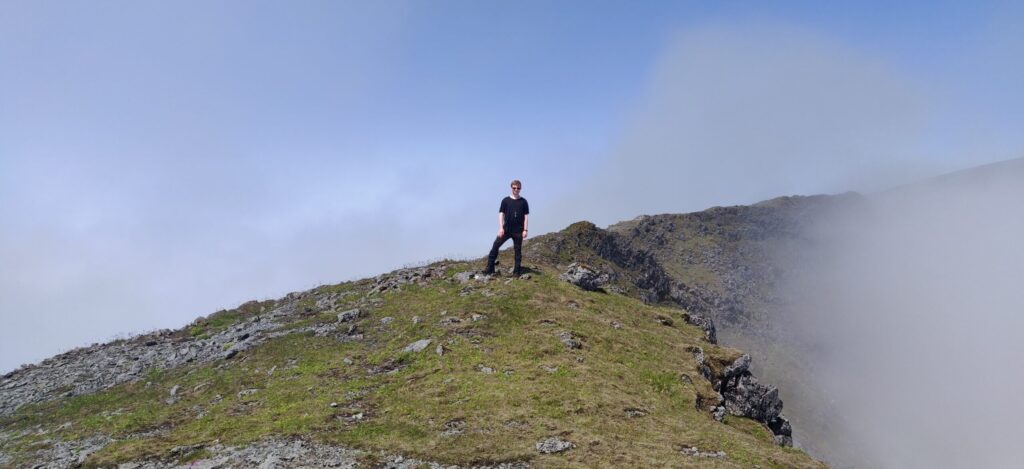 Here we have a wonderful report from the 2020 winner of the Henry Emeleus Fieldwork award, Steven Walker, on his investigation into magmatic evolution of the Palaeogene Igneous Province, Mull, Scotland:
"It was a tremendous privilege to receive the Henry Emeleus Award earlier this year, contributing to my PhD studies at Edge Hill University. The project focuses on the stratigraphic evolution of the Palaeogene volcanic sequence outcropping in the Isle of Mull, Scotland, and the underlying magmatic processes involved during its evolution. I have the upmost honour to be able to contribute to the understanding of the British Palaeogene Igneous Province and the esteemed geological heritage surrounding the Isle of Mull, described by Bailey et al., (1924) in their seminal Mull Geological Memoir.
Through my PhD fieldwork aided by the Henry Emeleus Award, myself and my primary supervisor, Dr Joaquín Cortés, headed out on the 11th July, to arrive in hot and sunny conditions on the Isle of Mull. We were extremely lucky not to encounter the dreaded midges and we experienced scorching hot sun with light winds for the most part of the excursion, with the inevitable rain and low cloud cover for some field days.
The aim of the fieldwork was to collect a stratigraphically constrained sequence of the lava products, representing the temporal changes in the sequence. During the excursion we were able to determine a clear lithostratigraphy based on field relationships supported by the mineralogy determined in the volcanic products. We carefully looked for the flow-by-flow stratigraphy, sampling and tracing them up the stratigraphy using the iconic "traps" topography. We also correlated several flows across the extent of the north and south-western areas, based on field observations. The main observation prevalent throughout all the stratigraphy was the transition from basalts into more evolved trachytic flows, with distinct mineralogical changes. In a small number of visited locations we found outcrops which are different from those reported in the literature. This is extremely interesting, and I will be looking at it in more detail during the project.
I am currently preparing samples for petrography and geochemical analysis, which will be accomplished in the coming months. The aim is to identify the temporal evolution of the rocks with a more in-depth look into textural and geochemical changes over time. By doing so, my PhD aims to gain knowledge on magma chamber dynamics through combined textural, petrological and geochemical modelling. This broader goal will feed into modelling the magmatic system active at Mull during the Palaeogene.
I would like to take this opportunity to thank VMSG for this award and I am most grateful for their contribution toward my study. If you are interested in this work, feel free to get in contact with me at walkerst@edgehill.ac.uk." – Steven Walker
VMSG student bursaries
Final reminder that applications for the December round of VMSG student bursaries are open. These are awards to support fieldwork or conference attendance (including virtual conferences). You must be a current research student, have previously presented a talk or poster at a VMSG conference, and have not been a previous awardee of a student bursary. Deadline is 1st December so get cracking! Details available here. – Nick Gardiner
VMSG PhD list: out now!
The VMSG PhD list for 2021/2022 is out now! This list shows the volcanology- and mantle-themed PhD projects that are currently available to apply to, for project start in autum 2022. The list will continue to be updated as all universities release projects and details. Please note that the projects all have different deadlines, and some are fast approaching, so please check carefully!
Find the list here.
If you have a project that you would like to be included, then email Emma Watts (VMSG Student Rep) at e.j.watts@soton.ac.uk and she will add it ASAP. – Emma Watts
Any Other Business?
Keep connected
While you're here, don't forget to keep in touch with us and other volcanologists around the world. You can do this through the VMSG PhD and ECR directory (here), the Arizona State University mailing list (here), and the VMSG mailing list (here).