VMSG Newsletter #53

No. 53: May 2022
"I never make stupid mistakes. Only very, very clever ones." – John Peel
Editorial
Dear all, welcome to the spring 2022 VMSG newsletter. This issue opens with a reflection on our common identity and goals as volcanologists. We've placed this item at front and centre as we feel it aligns with our ethos: it's deeply important the VMSG is an open and welcoming group to all. Further on in this issue, we're broadening our horizons as we take a look at conferences around the world. Culture vultures can feast on a book review, a science festival in rude health, and an explosive film premiere. Elsewhere, get motivated with a job round-up and call for VMSG awards and student bursaries. As ever, hope you enjoy. – Ailsa Naismith
Volcanologists: who are we and where are we going?
The past few months have seen a series of perspective pieces published in the Bulletin of Volcanology, in the Topical Collection 'Looking Backwards and Forwards in Volcanology: A Collection of Perspectives on the Trajectory of a Science'. Following an open call for contributions from guest editors Kathy Cashman, Jon Fink and Freysteinn Sigmundsson, there are currently 27 articles that have been published, covering a huge range of themes in volcanology. One article is focused on the volcanologists themselves rather than the science they conduct.
In "Volcanologists—who are we and where are we going?", Kavanagh et al. compiled data from memberships of international volcanology organisations (IAVCEI, AGU and EGU), positions on volcanology committees, volcanology awards (including the VMSG Thermo-Fisher award), keynote talks, editorial boards and lead-authorship on volcanology papers. The paper also collected new qualitative data on discrimination that members of the volcanology community have experienced or witnessed, with quotes from an online ethics-approved survey presented alongside maps, graphs and tables which quantify the lack of diversity in the international volcanology community.
Figure 1 of the paper shows IAVCEI membership and gender distribution in 2021.
The data show discrimination related to gender identity, ethnicity, sexual orientation, religion, physical ability and socio-economic background is occurring, and that the intersection of these discriminations further exacerbates marginalisation within the volcanology community. The lead author of the study, Janine Kavanagh, told us that the article had been inspired in part by the equality, diversity and inclusion work that the VMSG committee had done with the previous Chair Sally Gibson, such as the EDI report led by Sam Engwell in 2020 and the online panel discussions led by Jenni Barclay in response to the #blacklivesmatter protests in 2020.
Call for VMSG awards & student bursaries
There is still time to submit nominations to the VMSG's Willy Aspinall and Thermo-Fisher Awards. The awards recognize, respectively, the lead author of an outstanding paper on applied volcanology and an individual who has made a significant contribution to our understanding of volcanic and magmatic processes. More information is available for both nominations here: Willy Aspinall Award and Thermo-Fisher Award. Please note that these awards cannot be self-nominated, so we particularly encourage senior and/or busy members of our community to nominate others. Please send nominations to the VMSG Awards Officer (nick.gardiner@st-andrews.ac.uk) by the deadline of Monday 6th June.
In addition to awards, the summer round of VMSG student bursaries is now open! These bursaries are for student members to cover fieldwork or conference expenses. The deadline is Monday 20th June. Find more details here.

The Geological Society – President's Day
The VMSG's parent society, the Geological Society, invites you to a series of special events on President's Day, Wednesday 8th June. This day of events includes the Annual General Meeting (AGM), Society Awards and the Wollaston Medallist Lecture. All details below.
President's Day, 8 June 2022: AGM, Society Awards and Wollaston Medallist Lecture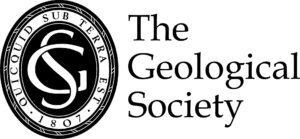 Annual General Meeting – 11:00-12:30 (BST). Fellows receive reports from Officers and Geoscientist's Editor-in-Chief and formally approve the 2021 Annual Accounts and the new Council members elected in the preliminary ballot. All Geological Society Fellows and Student Members are welcome to attend so please register by 6th June 2022 to receive the papers and joining details.
Society Awards – 16:00-17:15 (BST). Join us to celebrate the 2022 Society Award winners' achievements and contribution to the geoscience community. Register for free here.
Wollaston Medallist Lecture – 17:30-18:30 (BST). Professor Emeritus Tanya Atwater, geophysicist and marine geologist best known for creating the first magnetic isochron map of the northeast Pacific Ocean, will share her experiences and insights into the history of the plate revolution. All are welcome so please register here for this free virtual lecture. – Christina Marron
Conferences Round-up!
EGU: Vienna, Austria & online, 23 – 27 May 2022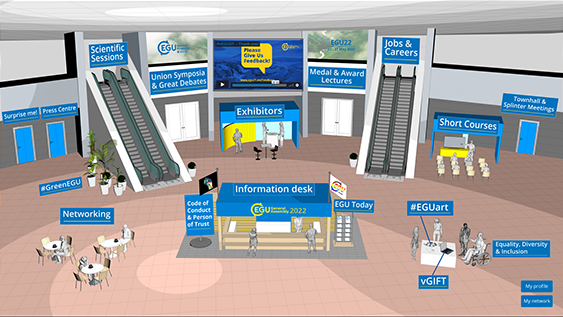 The virtual conference centre of EGU 2022.
The 2022 General Assembly of the European Geosciences Union (EGU) was held in late May in a hybrid format between Vienna and online. The conference gathered scientists from around the globe to discuss all kinds of topics in the disciplines of the Earth, planetary, and space sciences. Members of the VMSG were in attendance in groups such as GMPV (Geochemistry, Mineralogy, Petrology, and Volcanology). In case you missed it, find out about the event by searching the hashtag "#EGU22" on Twitter.

Cities on Volcanoes 11: Heraklion, Crete & online, 12 – 17 June 2022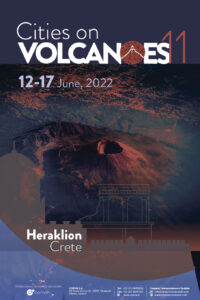 Cities on Volcanoes 11 (COV11) will take place in hybrid format on 12 – 17 June 2022, between the Cultural Conference Centre of Heraklion, Crete, and online. Participants will discuss many parts of volcanology under the theme of "Volcanoes and Society: environment, health, and hazards". The conference will be focused on multidisciplinary monitoring of volcanic environments in the vicinity of cities and highly touristic areas. At the same time, the ability to recognize volcanic hazards and their impact on people, emergency management by civil protection authorities, community education, case studies, and risk mitigation to reduce the impacts of volcanism and its effects on society will undoubtedly be discussed. Participants shouldn't miss the opportunity to visit Knossos (a Bronze Age archaeological site) and the Heraklion Archaeological Museum (one of Europe's most important museums, covering over 5500 years of the island's history). Additionally, we will organize several field trips, including to Methana, Santorini, Psiloritis UNESCO Global Geopark, and Milos. We are also ready to provide high-quality virtual access to participants experiencing travel restrictions. COV11 will occur in hybrid format in order to enable the maximum number of interested members to participate.
Visit the Official CoV11 website here to find out more information about the Plenary Speakers, the complete Scientific Program , Virtual Access to the conference, and much more! – CoV Organising Committee
AGU Chapman Conference: Flagstaff, Arizona, 19 – 23 September 2022
The AGU Chapman conference on Distributed Volcanism and Distributed Volcanic Hazards will be held in Flagstaff, Arizona, on 19 – 23 September 2022.  Abstracts can be submitted here. Submission is open until Tuesday 7th June at 23:59 EDT (04:59 BST on Wednesday 8th June). More information is available here.

IAVCEI 2023: Rotorua, New Zealand, 30 Jan – 3 Feb 2023

Please save the date for the forthcoming IAVCEI Scientific Assembly! This meeting will be hosted in stunning Rotorua, New Zealand, on 30 Jan – 3 Feb 2023. The call for abstracts will be launched and registration will open in early June, so keep your eyes peeled. Interested people can find out more on the official conference website at www.iavcei2023.org, which includes key information for early career researchers (ECRs). We look forward to welcoming many of you early next year to beautiful New Zealand. – IAVCEI2023 Local Organizing Committee
Hawai'ian Adventures: VMSG Bursary Report
August 2020: COVID was rife, everyone was fed up and my trip to Hawaii was officially cancelled. Fast forward 18 months and something that had seemed like it was never going to happen became a reality! I had FINALLY made it to Hawaii (in one piece I might add)!
Starting in January 2022, as part of my NERC SPITFIRE DTP studentship at the University of Southampton, I began a 4-month research placement at the University of Hawai'i. The placement consisted of a physical volcanology project investigating tephra dispersal from Fissure 8 during the 2018 Lower East Rift Zone (LERZ) eruption. Whilst my subsistence and living costs were covered by the DTP, funding had to be sourced for any research costs. I am eternally grateful to VMSG for contributing funds towards this phenomenal fieldwork opportunity.
The project, supervised by Professor Bruce Houghton, involved three fieldtrips to the Big Island of Hawai'i to carry out field measurements of the tephra around Ahu'aila'au (the Fissure 8 cone) with the aim of characterising the transport and deposition of the widespread tephra deposit of Fissure 8. At each measurement location (57 in total) the thickness of the deposit and dimensions of the largest clasts were measured alongside in-field grainsize analysis of the coarse clasts. Representative samples of the finer clasts were collected and taken back to the University of Hawai'i for further grainsize analysis. Many of the techniques used within this project were completely new to me before the trip so I am extremely appreciative of Professor Houghton and the University of Hawai'i for teaching me all they did.
Since returning from the field, I have created an isopach map, carried out the remaining grainsize analysis, and done some modelling. My results are currently being written up as a manuscript to share with the volcanology community, so keep your eyes peeled.
Alongside learning numerous new techniques and carrying out fieldwork (which I have been unable to do in my PhD research area due to geopolitical issues), I was also able to participate in the graduate explosive volcanism course at the University of Hawai'i and activities within the research group. This gave an extra side to the placement experience by further developing my knowledge and skillset as well as getting to meet some amazing people.
When I first learnt about volcanoes at school, Kilauea was one of the case studies. I've since taught upcoming geography and geology students about the Hawai'ian volcanoes so it was a dream come true to go and carry out research there. Mahalo VMSG. – Emma Watts
Job round-up
We have included below a short, non-exhaustive list of current vacancies.
Micro-CT Lab Manager
The post holder will manage the Natural History Museum's micro-CT laboratory, with responsibilities including facility development, operation of micro-CT instrumentation, and data processing for visitors and customers. The role involves management of a dynamic laboratory, training users to a high level of skill and conducting research relevant to micro-CT. Closing date Wednesday 15th June 2022. More details here.

Lecturer in Environmental Geoscience
The University of Leicester's School of Geography, Geology & the Environment is seeking appointment of a Lecturer in Environmental Geoscience. The successful candidate will ideally bring knowledge in spatial analysis and/or big data and will join a flourishing school with a growing body of work at the interface with sustainability and environmental issues. Closing date is Tuesday 5th July 2022. More details here.
Hydrogeochemist
The British Geological Survey (BGS) is seeking a hydrogeochemist to join their team. Role responsibilities include contributions to current projects in hydrogeochemical applications to subsurface geothermal development, characterisation of baseline groundwater chemistry and groundwater pollution assessments. Activities will involve groundwater sampling, interpretation of hydrogeochemical data, contributing to technical reports, and communication with collaborators and clients. Closing date is Friday 3rd June 2022. More details here.
Book review: Supervolcanoes
We are pleased to publish a book review from two of our members, Dawid Rybak and Kate Williams. Dawid and Kate read Supervolcanoes: What They Reveal about Earth and the Worlds Beyond, written by Dr. Robin George Andrews and published by W. W. Norton & Company. Our reviewers eloquently share below what they thought:
"This book is a narrative that allows rigorous scientific minds to go on a journey of discovery using stories portrayed through the lens of individual researchers, multidisciplinary teams and scientific debate. The author pulled enough scientific ingredients for all earth scientists to play around, juggle and have fun hypothesising about earthly and planetary evolution, and what role volcanoes play within these.
When starting to read this book, the expectation is that the focus and interest will be centered on terrestrial volcanism and famous supervolcanoes such as Kilaeua Volcano and Yellowstone. In fact, the lack of focus on this is a credit to the author. Instead it leaves the reader in awe of the connections between planetary-scale geological phenomena, atmospherics and existence of life. The later chapters are where this book comes to life, with the otherworldly nature of the volcanism on Io and Enceladus overshadowing the previous chapters, particularly ice volcanoes and volcanoes that can alter the tilt of a planet.
The freedom with which this book has been written rejuvenates the pure scientific spirit and provides an escape from the minute details of a researcher's life, reminding us why our research matters and how it contributes to scientific exploration. This book is a great introductory book to complex concepts, and would be a fantastic way to encourage new scientists to begin their own journeys into volcanology." – Dawid Rybak & Kate Williams
Please note that Dawid and Kate provided this review without compensation. However, the publishers are pleased to offer VMSG members an exclusive discount. To order Super Volcanoes: What they Reveal about Earth and the Worlds Beyond at a special member discount of 30% please click here and add the code WN001 when prompted at the checkout.
Pint Of Science: 10 year special!
We're thrilled to spotlight several members of our community who recently participated in Pint of Science 2022. Pint of Science is an international research festival in which scientists share their research with people in local public spaces such as cafés, bars, and pubs. The festival, which celebrated its 10th birthday this year, allowed thousands of speakers in 400 cities in 24 countries to discuss their work. You can see our dynamic speakers and their results in the slideshow below, and hear what they thought about their event: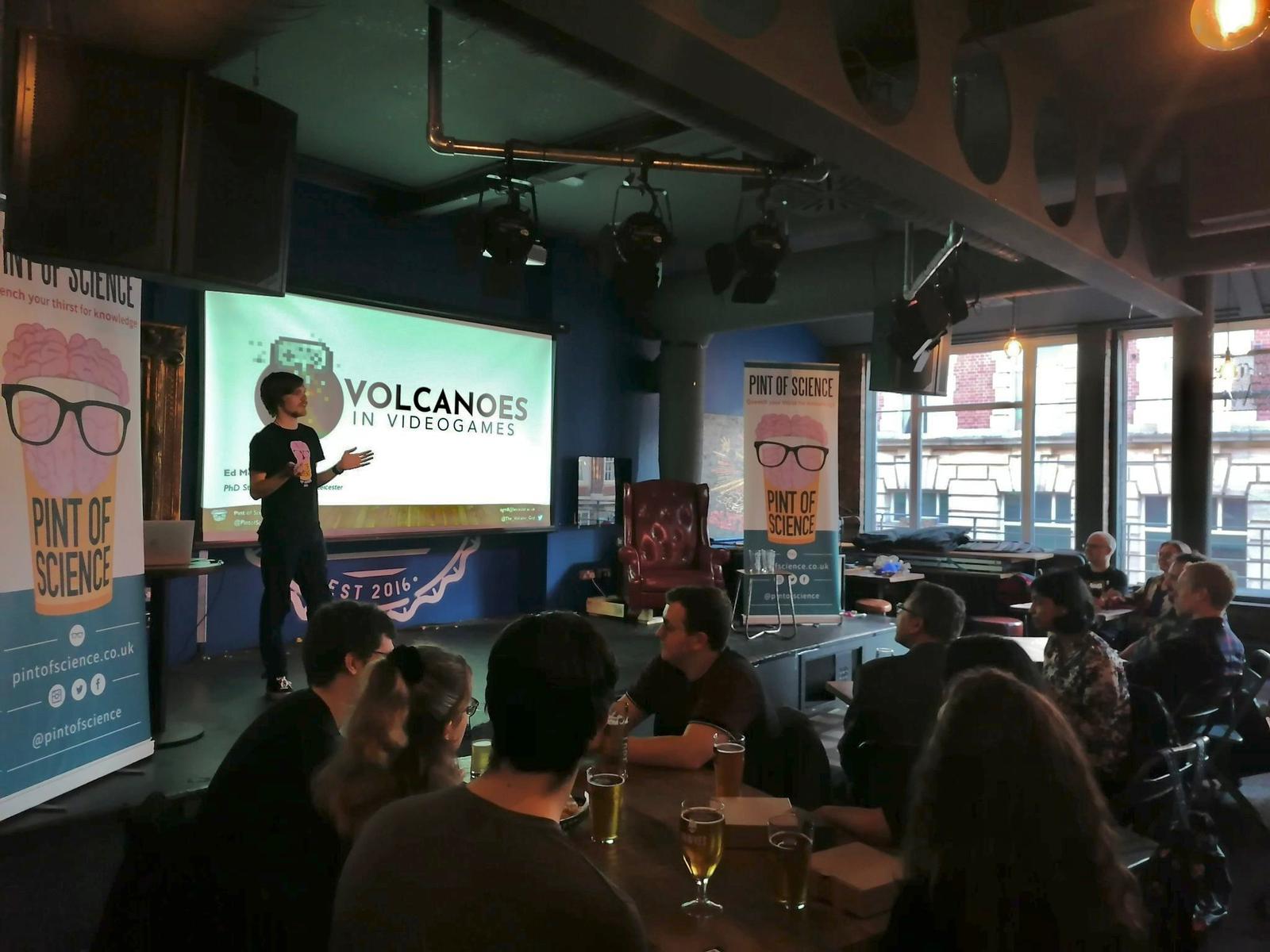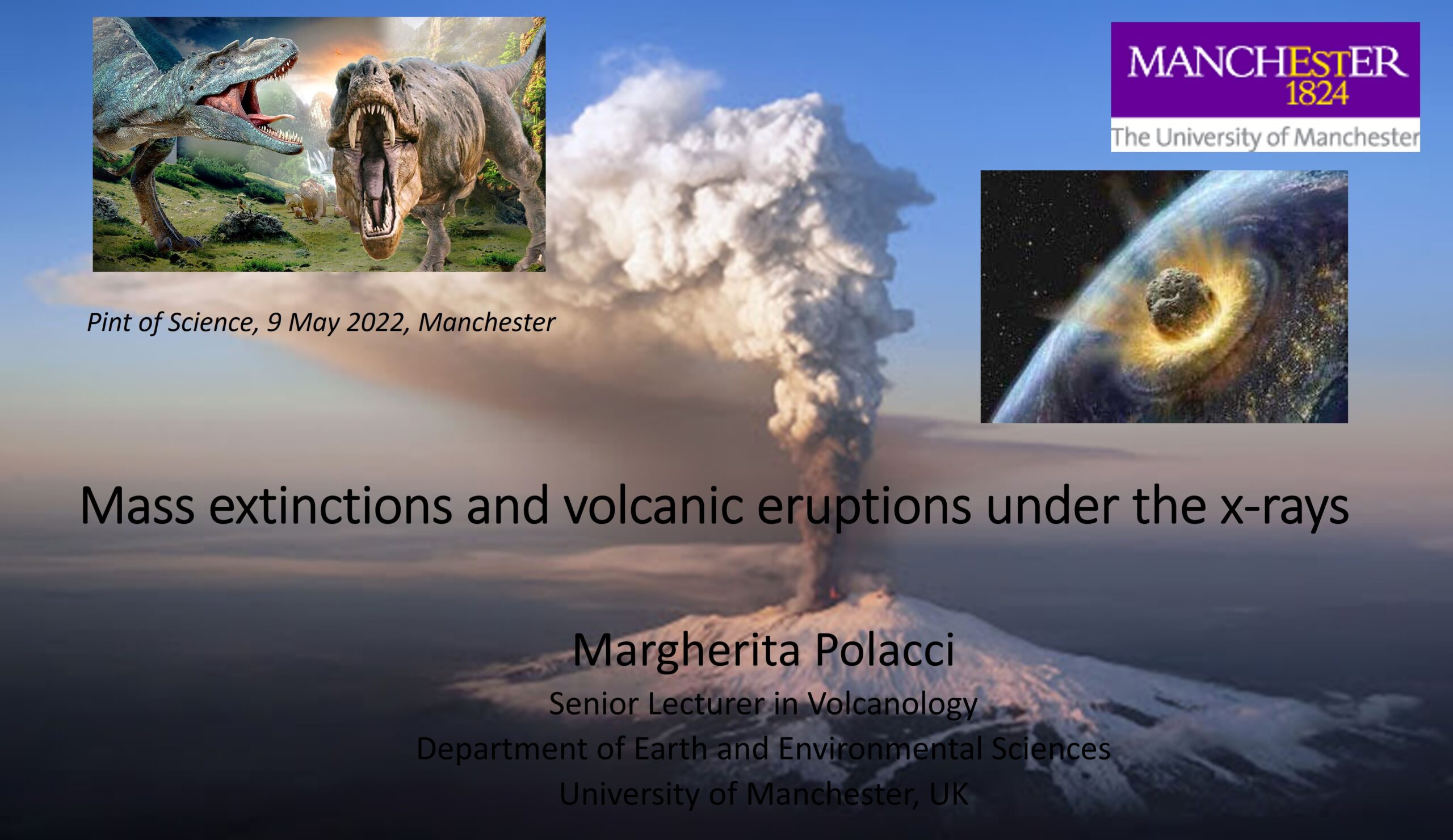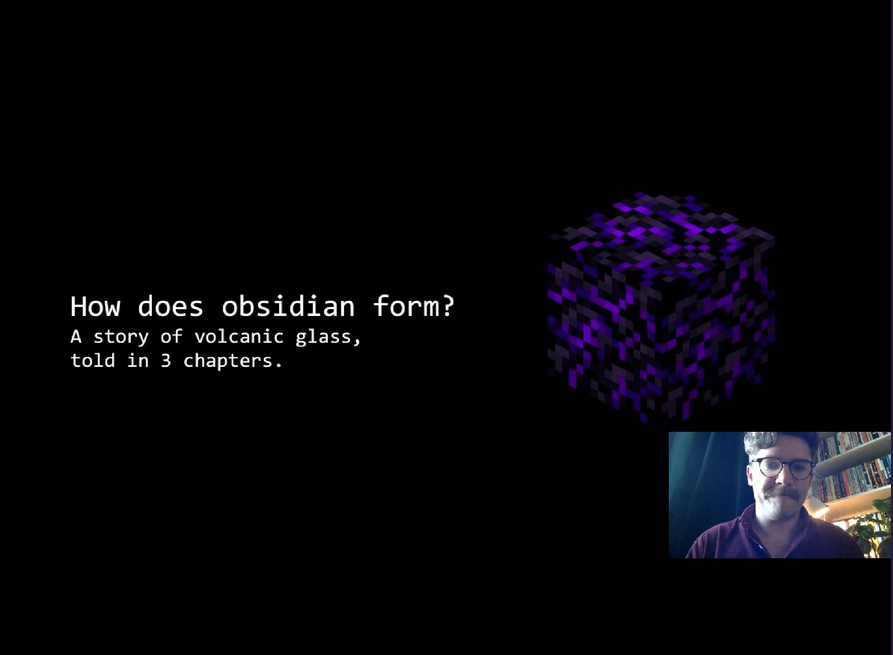 Screenshot 2022-05-30 at 09.33.55
Ed McGowan: "This year saw Pint of Science celebrate its 10th anniversary. The event brings researchers and the public together in a more relaxing, informal environment to talk about science! As an event organizer and speaker for Leicester's 'Planet Earth'-themed segment, I enjoyed seeing everyone come together and have a great time; whether it was to learn something new, or to support your colleagues during a talk. My talk was on my 'Volcanoes in Videogames" research, showing how although virtual volcanoes live in a fake world, subject to the manipulations of developers, they often display many realistic features that we can also see in real volcanoes across the world."
Chiara Petrone: "I love Pint of Science, it is so fun to talk about science in such a relaxing environment with a genuinely enthusiastic audience. It is the second time that I have been invited to talk about volcanoes at Pint of Science – the first one was in 2018. I have fond memories of the pre-pandemic event and this year it was even better. In fact, there was the extra excitement due to my first in-person post-pandemic public outreach event. During the night, there was a volcano-related pub quiz with the audience performing really well. The best part of the evening was a teacher who come to listen still remembering my talk in 2018. I was completely overwhelmed by her enthusiasm and support. How could I not love it!".
Katy Chamberlain: ""I had a great time at my first Pint of Science, and got excellent questions from the wonderful Middlesbrough audience".
Margherita Polacci: In this session I talked about implications of volcanic eruptions for natural catastrophes. I highlighted the role of volcano scientists in improving eruption dynamics understanding and predictions, drawing from my personal experience as a volcanologist and that from peer colleagues in this field.
Fire on Film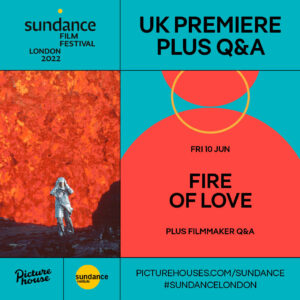 The London showing of the international Sundance Film Festival will take place at Picturehouse Central on 9 – 12 June 2022. This year's festival includes the UK premiere of "FIRE OF LOVE". The film's story follows two French volcanologists who embark on a love story that will get them killed. Many volcanologists will know the couple Maurice and Katia Krafft: this film shows the subject of their shared passion through explosive imagery never before seen.
We're thrilled to offer the VMSG network discounted tickets to the UK premiere. By simply entering the voucher code SFL10000000015040 at the checkout of the Picturehouse website, you can receive a £10 ticket (normally £17.20). – John-Paul Pierrot
Any Other Business?
Stay in touch!
Don't forget to keep in touch with us and other volcanologists around the world. There are several ways you can do this: through the VMSG PhD and ECR directory (here), the Arizona State University mailing list (here), and the VMSG mailing list (here).